Three Guidelines for Clergy in the Gig Economy
By Rhonda Abbott Blevins, Pinnacle Associate
gig economy: economic activity that involves the use of temporary or freelance workers to perform jobs typically in the service sector.[i]
The gig economy is putting the squeeze on the middle class, including most of America's clergy.
Financial stress within the profession runs high. The National Association of Evangelicals reports that ninety percent of pastors surveyed feel financial stress; thirty-one percent work second jobs.[ii] This should come as no surprise given that clergy incomes fall below national medians: the median household income for all Americans in 2018 was $63,378[iii] compared to $55,775 for clergy households.[iv] Ministers without insurance from their church or denomination face the sting of growing healthcare costs. Many younger clergy carry crippling student loan debt, dubbed a "crisis" within the United Methodist Church.[v] These young ministers carry this debt into a profession in which they will likely earn less than their educational peers.[vi] Some leave the ministry due to financial strain; many who remain in vocational ministry are turning to "side hustles" just to make ends meet.
Observing this trend, I asked a number of clergy friends what they are doing beyond parish ministry in order to pay the bills. Popular income streams beyond the parish include:
adjunct, substitute and online teaching

leading side funerals through local funeral homes

writing curriculum, articles and books

working retail

serving as a hospital or hospice chaplain

pet sitting

driving for Uber and Lyft

leading retreats and workshops

owning an online shop
"Tentmaking" is nothing new among ministers. When I began full-time ministry in the late 90's, however, I knew of few full-time clergy who had side hustles. Fast forward twenty years and things have changed. I have numerous minister friends who do side gigs—some might be forced to leave vocational ministry if not for the additional income they earn outside the parish.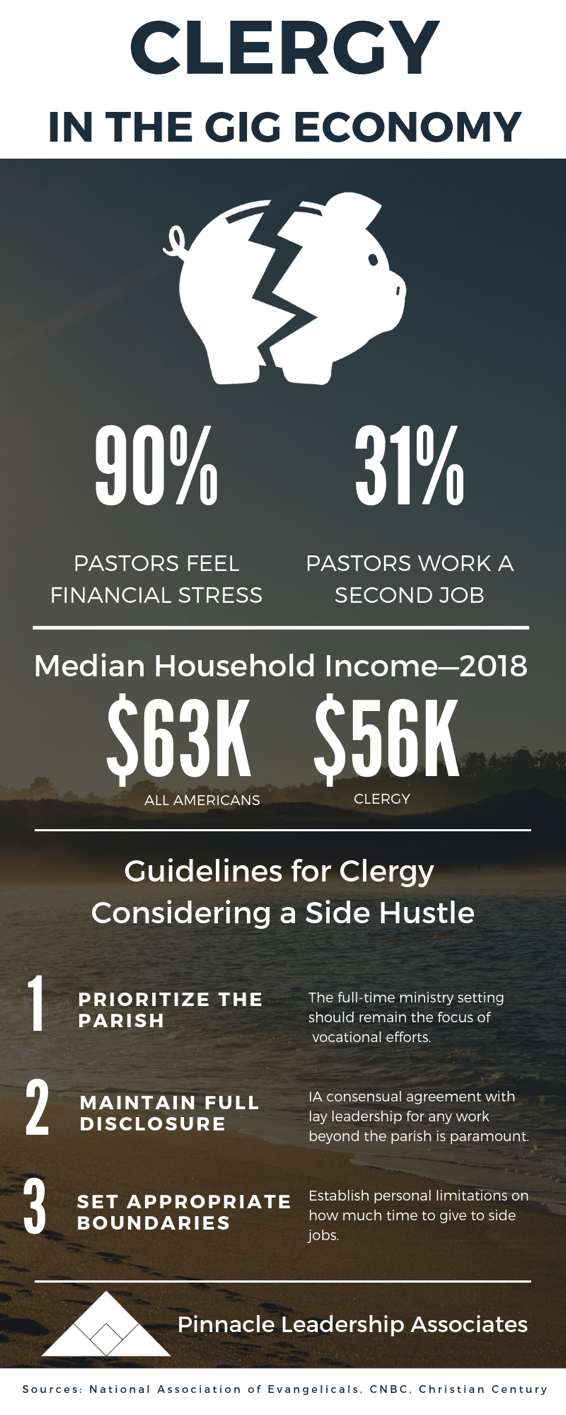 Some may lament that an increasing number of clergy are seeking additional revenue streams. Parishioners may want their pastor's full attention, beyond the standard 40-hour work week. A few denominational entities set limits on how many hours a full-time minister can spend each week on work outside the parish.
For ministers in settings without such guidelines, where is the line? Is it ethical to have a side hustle at all? If so, how many hours can a pastor give to a side gig before the parish ministry begins to suffer? What kinds of hustles are appropriate? Is it OK to write Sunday School curriculum? Bag groceries? Drive a school bus?
Without denominational guidelines, parish ministers must self-regulate when it comes to work beyond the church. Here are three essential guidelines for full-time clergy to consider before jumping aboard the side hustle bandwagon:
1. Prioritize the parish. The parish (or other full-time ministry setting) should remain the focus of your vocational efforts. Anything less, and they're being cheated. Maybe they can't pay you what others with your level of education are making, but remember, you did not choose this vocational path for the money. This is your church. These are your people. They are the rightful recipients of your best work.
2. Maintain full disclosure. If the denomination has not set boundaries, a consensual agreement with lay leadership for any work beyond the parish is paramount. They should never be surprised to learn of work you are doing beyond the parish. Keep them informed through ongoing communications. Only when everyone is on the same page can the side hustle begin.
3. Set appropriate boundaries. Most pastors I know are talented enough to pick up as many side gigs as they want (see the list above). When entering the world of side hustles, however, the ethical thing for clergy to do is set personal limitations on how much time to give to these efforts. Giving up time watching "Dancing With the Stars" for the gig seems reasonable while foregoing hospital visitation might be an ethical violation. How much time will the extra work take away from family? Can you be at your best as a pastor, spouse, or parent if you take on this work? Plan to say "no" a lot, or pretty soon the side hustle will own you instead of the other way around.
As it becomes increasingly difficult for many churches to employ full-time ministers, the gig economy might provide just the right opportunity. Rather than a pastor working part-time at the church and (at least) one other job, churches can employ pastors on a full-time basis while allowing flexibility for the minister to supplement income through side gigs.
Although the gig economy may be putting the squeeze on clergy, maybe side gigs can empower clergy to squeeze back with the church as the ultimate beneficiary.
_________________________________________________
[i] https://www.merriam-webster.com/dictionary/gig%20economy (accessed September 3, 2019).
[ii] National Association of Evangelicals, https://www.nae.net/pastorresearch/ (accessed September 3, 2019).
[iii] Elaine Pofeldt, "How the Hustle and Gig Economy is Choking the Middle Class," May 4, 2019, https://www.cnbc.com/2019/05/03/how-the-hustle-and-gig-economy-is-choking-the-middle-class.html (accessed September 3, 2019).
[iv] C. Kirk Hadaway and Penny Long Marler, "What Pastors Get Paid, and When It's Not Enough," The Christian Century, June 6, 2019, https://www.christiancentury.org/article/critical-essay/what-pastors-get-paid-and-when-it-s-not-enough (accessed September 3, 2019).
[v] Betty Elrod, "Resolving the Debt Crisis for United Methodist Clergy," December 2015, http://www.interpretermagazine.org/topics/resolving-the-debt-crisis-for-united-methodist-clergy (accessed September 3, 2019).
[vi] Cyrus Schleifer and Mark Chaves, "The Price of the Calling: Exploring Clergy Compensation Using Current Population Survey Data," Journal for the Scientific Study of Religion, July 5, 2016, https://onlinelibrary.wiley.com/doi/full/10.1111/jssr.12254 (accessed September 5, 2019).